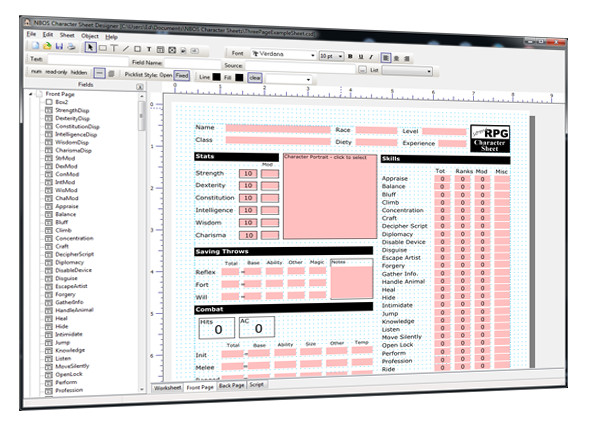 NBOS Character Sheet Designer
Create character sheets for any game!
NBOS Character Sheet Designer 2.0
Need character sheets? Then check out the new NBOS Character Sheet Designer. The Character Sheet Designer is a system you can use to create and fill out interactive electronic character sheets. Design character sheets for your favorite system, home brew systems, or even create special purpose character sheets for NPCs and monsters.
The NBOS Character Sheet system is really two programs - a Character Sheet Designer, and a Character Sheet Viewer.
The Character Sheet Designer is a WYSIWYG (what-you-see-is-what-you-get) character sheet layout program. You can draw out your character sheet definition, define fields that can be filled out, define automatic calculations based on the values of other fields, and even use JavaScript to model complex game rules.
The Character Sheet Viewer allows you to enter and edit information into your character sheets.
Key Features:
Editable fields
Automatic calculations
Extendible with JavaScript
Multiple page character sheets
Printable
A great price.... FREE
Download the NBOS Character Sheet Designer for free now, from NBOS Online Exchange.

Free Download!
Copyright ©2021, NBOS Software. All rights reserved. 'Fractal Mapper', 'ScreenMonkey', 'Character Sketcher', 'Inspiration Pad Pro', 'Fractal World Explorer', 'Goblin API', 'AstroSynthesis', 'The Keep', and 'Skwyre' are trademarks of NBOS Software. Android is a trademark of Google Inc.