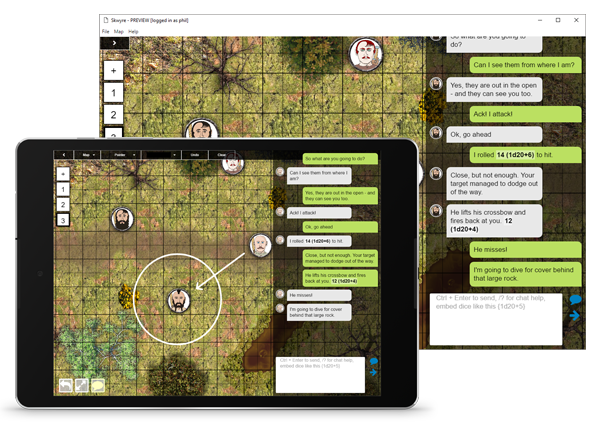 Real-Time Virtual Table Top
Across the table... or across the world!
Skwyre - Real-Time Virtual Table Top
Preview Edition #3 (September 2017)
Like a warrior of old, take a trusty Skwyre with you into battle! Skwyre is a new real-time virtual table top designed for both at-table and online gaming.
This third Preview release features many interface improvements, including:
An all new dice roller that saves recent dice rolls
A redone drawing tools palette
The ability to archive and reload maps
Grid snapping for minis
Snapped drawing for hex grids
Right-click support in the desktop edition (Win/Linux/MacOS)
...and many smaller GUI improvements
Features:
Real-time, shared battle maps. See the map change instantly as minis are dragged across the table top or as the GM draws on it.
Supports multiple campaigns
Multiple maps per campaign, easily switch between them
Upload your own maps, textures, and miniatures.
Integrated chat for online gaming, featuring markdown styling and dice rolling
Map annotations and text, for marking notes and on the fly map drawing. Annotations include lines, circles, arrows, measuring tool, and text.
Supports touch-based devices, great for tablets!
Fully hosted service, no firewall headaches
SSL encryption. Your connection to the Skwyre server is secure and private.
Available for Windows (64 bit), OSX (64 bit), Linux (64 bit), Android. (iOS following)
Copyright ©2023, NBOS Software. All rights reserved. 'Fractal Mapper', 'ScreenMonkey', 'Character Sketcher', 'Inspiration Pad Pro', 'Fractal World Explorer', 'Goblin API', 'AstroSynthesis', 'The Keep', and 'Skwyre' are trademarks of NBOS Software. Android is a trademark of Google Inc.