Log in to your NBOS account to upload files
Jörðgarð Map of the Week #372 - Black Fortress Garrison Dungeon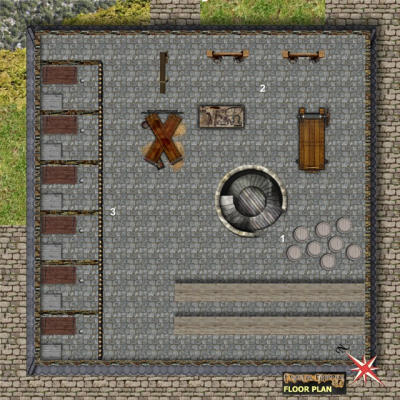 Contributor:
MarkOliva
Rating:
Date Added:
09/30/2018
Downloads:
861
Description:
Map of the Week No. 372 is from the forthcoming Jörðgarð Trails adventure "A Tale of 2 Books." This week we look at the dungeon of the garrison of the Black Fortress where the orcs lair. The dungeon has held no prisoners for years.
Key to the Floor Plan
Key to the Floor Plan
1. Storage Area. The shelves in the southeast corner are empty, but the whisky barrels are full.
2. Torture Chamber.
3. Prison Cells.
You can get this floor plan in two versions:
1. The Fractal Mapper (TM) 8 version in FMP format (5.5 MB) from the Jörðgarð website.
2. As a JPG flat map of 1360 x 1360 Pixels (840 KB) with the hyperlink below.
Both versions are released for personal and commercial use under the Open Game License Version 1.0a, which you can read on the Jörðgarð website at:
www.vintyri.org/joerdhgardh/
Next week: Black Fortress Stall
Copyright ©2023, NBOS Software. All rights reserved. 'Fractal Mapper', 'ScreenMonkey', 'Character Sketcher', 'Inspiration Pad Pro', 'Fractal World Explorer', 'Goblin API', 'AstroSynthesis', 'The Keep', and 'Skwyre' are trademarks of NBOS Software. Android is a trademark of Google Inc.