Log in to your NBOS account to upload files
NBOS Character Sheet Designer v2.0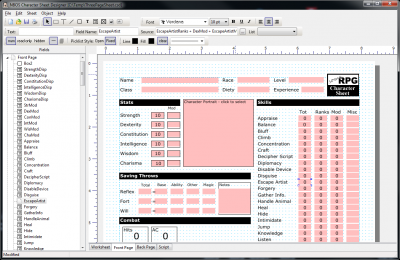 Contributor:
Ed_NBOS
Rating:
Date Added:
02/02/2009
Downloads:
120922
Description:
The latest version of the NBOS Character Sheet Designer and Viewers.
-- New version 2.0! --
The main change in this new version is an all new expression engine under the hood. Calculations will be much faster in this version than they were in v1.
-- General Features --
This is actually two programs:
- A WYSIWYG character sheet designer.
- A viewer application your players can use to fill out the character sheets.
For more info, see:
www.nbos.com/products/charsheet/charsheet.htm
Copyright ©2023, NBOS Software. All rights reserved. 'Fractal Mapper', 'ScreenMonkey', 'Character Sketcher', 'Inspiration Pad Pro', 'Fractal World Explorer', 'Goblin API', 'AstroSynthesis', 'The Keep', and 'Skwyre' are trademarks of NBOS Software. Android is a trademark of Google Inc.