Log in to your NBOS account to upload files
NBOS Globe Viewer 4.01a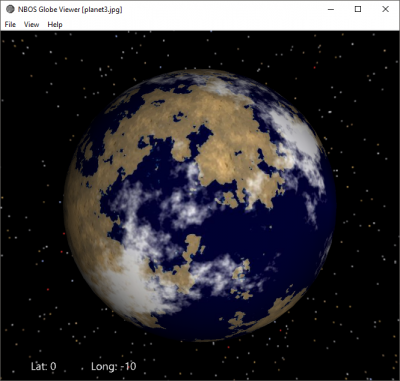 Contributor:
Ed_NBOS
Rating:
Date Added:
09/12/2018
Downloads:
1480
Description:
Updated Globe Viewer for use with Fractal Mapper and FWE. Designed to work better with modern video cards/drivers. The installer will automatically configure FM and FWE so that this new viewer will be used.

If you just purchased FM, be sure to install that first, before installing this updated viewer.
Copyright ©2023, NBOS Software. All rights reserved. 'Fractal Mapper', 'ScreenMonkey', 'Character Sketcher', 'Inspiration Pad Pro', 'Fractal World Explorer', 'Goblin API', 'AstroSynthesis', 'The Keep', and 'Skwyre' are trademarks of NBOS Software. Android is a trademark of Google Inc.