Log in to your NBOS account to upload files
Inspiration Pad for Linux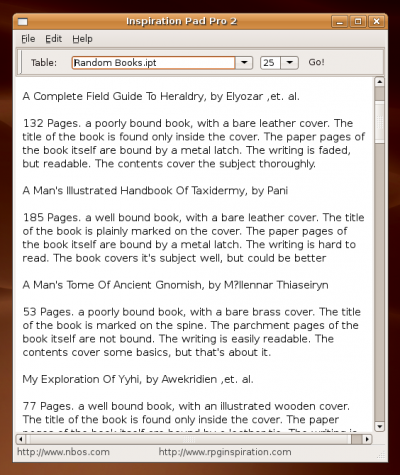 Contributor:
Ed_NBOS
Rating:
Date Added:
10/10/2006
Downloads:
2344
Description:
This is a 'proof of concept' native Linux build of Inspiration Pad Pro v2.0 BETA. This is a GUI application using GTK2, not a command line program. This is _very_ beta quality. Most of the menu items are non functional, and the HTML display area has limited formatting capabilities.

This is provided here mainly to find out how well this executable launches across different linux distributions.

To install, unzip/untar into an empty directory keeping the directory structure intact.
Copyright ©2023, NBOS Software. All rights reserved. 'Fractal Mapper', 'ScreenMonkey', 'Character Sketcher', 'Inspiration Pad Pro', 'Fractal World Explorer', 'Goblin API', 'AstroSynthesis', 'The Keep', and 'Skwyre' are trademarks of NBOS Software. Android is a trademark of Google Inc.