Log in to your NBOS account to upload files
AstroSynthesis 3.01d update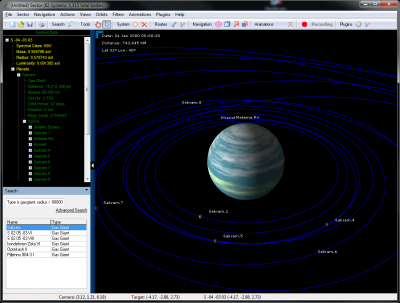 Contributor:
Ed_NBOS
Rating:
Date Added:
07/19/2015
Downloads:
3353
Description:
This is a general update to AstroSynthesis 3.0.

Changes in this update:

[fixed] Generate system contents and a few other menu options were not flagging a body as modified, resulting in the affected bodies not being saved.
[fixed] The 'move up'/'move down' items in the pop-up menu in the Sector Properties -> System Data Fields were mislabeled.
[fixed] Travel calculator was miscalculating interstellar distances along the Z axis.
[fixed] The Natural Language Search was not allowing US style decimal values on systems set to European number formatting (',' for decimals)
[fixed] Generator was not generating moons for Free Gas Giants.
[change] Migrated to new Auto-Updater system.


This is an updater program that will install the new and changed files. To use, download this file and run it. If you have just installed AstroSynthesis for the first time, run it first before running this updater so that it can report its location to Windows.

This program will not be functional if you don't already have the full commercial version of AstroSynthesis 3.0. It requires licensing information that is included in the full commercial version's installer.
Copyright ©2023, NBOS Software. All rights reserved. 'Fractal Mapper', 'ScreenMonkey', 'Character Sketcher', 'Inspiration Pad Pro', 'Fractal World Explorer', 'Goblin API', 'AstroSynthesis', 'The Keep', and 'Skwyre' are trademarks of NBOS Software. Android is a trademark of Google Inc.