Log in to your NBOS account to upload files
Dump Truck Loading Game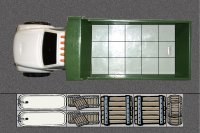 Contributor:
MikeDeSanto
Rating:
Date Added:
07/16/2006
Downloads:
1812
Description:
Second in the truck loading game series. The truck is a little larger, but the items are the same.

I have not fugired out example configurations. Let the little ones see how much they can get into the truck.

Designed to be printed at an instant/1 hour photo place on 6"x4" prints.
Copyright ©2023, NBOS Software. All rights reserved. 'Fractal Mapper', 'ScreenMonkey', 'Character Sketcher', 'Inspiration Pad Pro', 'Fractal World Explorer', 'Goblin API', 'AstroSynthesis', 'The Keep', and 'Skwyre' are trademarks of NBOS Software. Android is a trademark of Google Inc.