Log in to your NBOS account to upload files
Chimera Basic Character Sheet Revision 1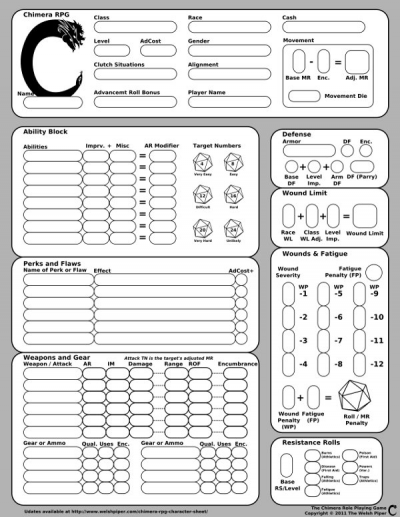 Contributor:
Gregory BMacKenzie
Rating:
Date Added:
04/27/2012
Downloads:
1724
Description:
A Character Sheet for Chimera Basic. This has two sheets and consists largely of fields overlaid upon images. The user may enter their content into the fields. Some fields have lists. Enjoy!

Rev 01 - Updated the first page to include a field for Initiative Modifier. The Abiity fields Sum together and total the ARs. The second page now includes an image field and multiline fields for the notes.
Copyright ©2021, NBOS Software. All rights reserved. 'Fractal Mapper', 'ScreenMonkey', 'Character Sketcher', 'Inspiration Pad Pro', 'Fractal World Explorer', 'Goblin API', 'AstroSynthesis', 'The Keep', and 'Skwyre' are trademarks of NBOS Software. Android is a trademark of Google Inc.