Log in to your NBOS account to upload files
The Keep 1.10d (BETA)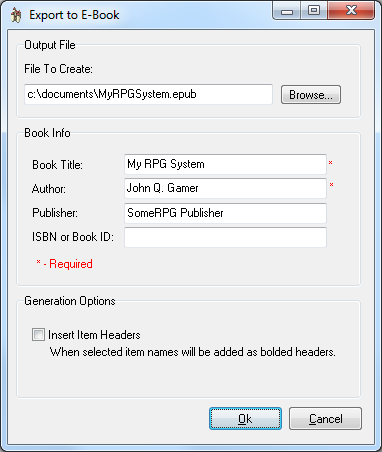 Contributor:
Ed_NBOS
Rating:
Date Added:
02/23/2012
Downloads:
1722
Description:
Updated 3/27/12

[fixed] ePub export, text entries with multiple images were not exporting correctly.
[added] Hyperlinking support in ePub books
[added] ePub export option to use the reader device's default font rather than embedding font information
[fixed] Information was not being saved in text & log entries if a new log entry was created.

------------------------
This is a beta update to The Keep Campaign Manager.

New in this version:

[added] Experimental EBook support. The Keep can export text and image topics to EPUB formatted eBooks, for reading on eReaders and tablets such as the Nook, the iPad, Sony Reader, and the Kindle (with further processing). This support is experimental - if you use it please report how it worked for you.

Use "File -> Publish -> to EBook" from the menu.
Copyright ©2023, NBOS Software. All rights reserved. 'Fractal Mapper', 'ScreenMonkey', 'Character Sketcher', 'Inspiration Pad Pro', 'Fractal World Explorer', 'Goblin API', 'AstroSynthesis', 'The Keep', and 'Skwyre' are trademarks of NBOS Software. Android is a trademark of Google Inc.