Log in to your NBOS account to upload files
Iron Heroes (Monte Cook D20)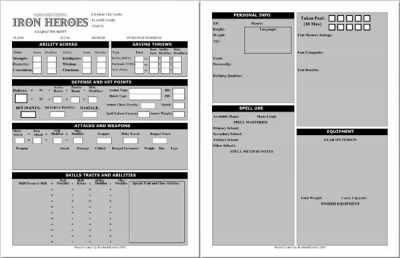 Contributor:
RichardKurbis
Rating:
Date Added:
03/01/2011
Downloads:
1864
Description:
This is a semi-automated character sheet for Monte Cook's D20 IRON HEROES RPG.

I created this one for my own campaign and I'm sharing this with you nice folks to use for your own Iron Heroes Game sessions.

Its 2 pages, and the Ability Score modifiers are automated.
Copyright ©2023, NBOS Software. All rights reserved. 'Fractal Mapper', 'ScreenMonkey', 'Character Sketcher', 'Inspiration Pad Pro', 'Fractal World Explorer', 'Goblin API', 'AstroSynthesis', 'The Keep', and 'Skwyre' are trademarks of NBOS Software. Android is a trademark of Google Inc.