Log in to your NBOS account to upload files
GURPS Solar System Data Sheet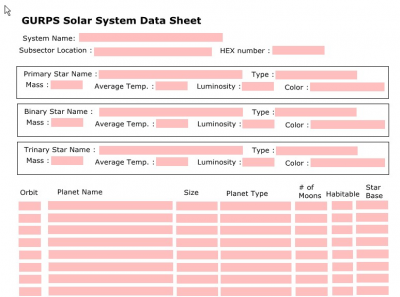 Contributor:
JamesWaites
Rating:
Date Added:
07/29/2009
Downloads:
1684
Description:
No Frills Data Sheet for Solar Systems.

Contains info on the stars of the system, planets, threat levels, astro navigational, etc ...

Third page contains a chart for star types.

Enjoy - Fellow Space Cadets :)
Copyright ©2021, NBOS Software. All rights reserved. 'Fractal Mapper', 'ScreenMonkey', 'Character Sketcher', 'Inspiration Pad Pro', 'Fractal World Explorer', 'Goblin API', 'AstroSynthesis', 'The Keep', and 'Skwyre' are trademarks of NBOS Software. Android is a trademark of Google Inc.