Log in to your NBOS account to upload files
GURPS Character Sheet - No Frills Version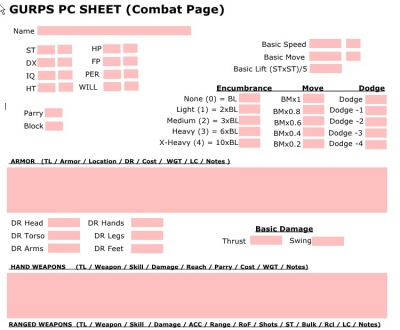 Contributor:
JamesWaites
Rating:
Date Added:
07/06/2009
Downloads:
2128
Description:
This is a no frills version of the character sheet but has more information about the character than the offical sheet. I use it to detail major villians in The Keep software or while playing online.

There is a sperate page for Combat, Skills, Advantages & Disadvantages, Equipment, Biographical Data, and Personal History.

Note : There are two items on the personal history section that might be considered politically uncorrect, but the campagin I am working on has a lot of politically incorrect space marines.
Copyright ©2023, NBOS Software. All rights reserved. 'Fractal Mapper', 'ScreenMonkey', 'Character Sketcher', 'Inspiration Pad Pro', 'Fractal World Explorer', 'Goblin API', 'AstroSynthesis', 'The Keep', and 'Skwyre' are trademarks of NBOS Software. Android is a trademark of Google Inc.