Log in to your NBOS account to upload files
Tweaks for GURPS Traveller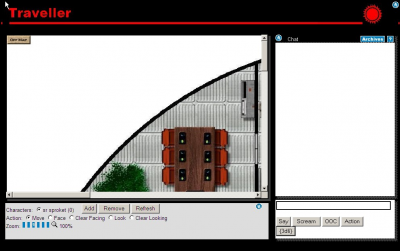 Contributor:
JamesWaites
Rating:
Date Added:
07/05/2009
Downloads:
1419
Description:
Directions : replace script folder with one included with this zip file. replace the main.html file in your screen monkey subdirectory /campaigns/ defaults/ ui/ advance with the main.html included in this zip file. I recommend you save your old script folder and main.html file to anthor folder labeled "orginal" or "old" if you want to restore them at a later date.

KEY CHANGES TO USER INTERFACE :
I have elminated unnessary dice only the standard gurps 3d6 are displayed, added an action, scream, ooc button to the chat section. I have also added a Traveller banner and changed background colors to make it more sci-fi. I have also changed the add character screen to better display larger minis than the orginal version of screen monkey (I am using a set that are 49x49)
Copyright ©2023, NBOS Software. All rights reserved. 'Fractal Mapper', 'ScreenMonkey', 'Character Sketcher', 'Inspiration Pad Pro', 'Fractal World Explorer', 'Goblin API', 'AstroSynthesis', 'The Keep', and 'Skwyre' are trademarks of NBOS Software. Android is a trademark of Google Inc.