Log in to your NBOS account to upload files
ScreenMonkey Lite - RPGLife.com Edition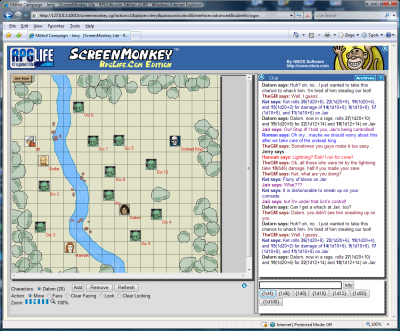 Contributor:
Ed_NBOS
Rating:
Date Added:
10/03/2008
Downloads:
3237
Description:
This is a special edition of ScreenMonkey designed to integrate with the new RPGLife.com community site. Instead of using registration codes, this edition allows you to use your RPGLife.com login information to announce games, and displays announced games on the RPGLife.com site.

In addition, this build features the following:
- full png support for miniatures. The previous version did not support transparent backgrounds.
- A bug which prevented some players from moving their characters via the web interface has been fixed.
Copyright ©2023, NBOS Software. All rights reserved. 'Fractal Mapper', 'ScreenMonkey', 'Character Sketcher', 'Inspiration Pad Pro', 'Fractal World Explorer', 'Goblin API', 'AstroSynthesis', 'The Keep', and 'Skwyre' are trademarks of NBOS Software. Android is a trademark of Google Inc.