Log in to your NBOS account to upload files
Find Nearest Systems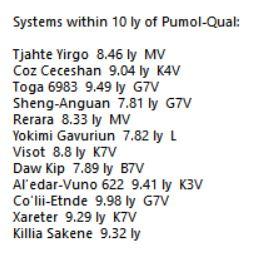 Contributor:
ATMLVE
Rating:
Date Added:
10/02/2022
Downloads:
333
Description:
A script that finds all of the systems within a given range of the selected system, and returns their name, distance, and class.

The range and the maximum number of results can be modified within the script.

Seems to actually just cut off after a certain point on its own, certainly an easy fix, but it's really only meant for small volumes anyway.
Copyright ©2023, NBOS Software. All rights reserved. 'Fractal Mapper', 'ScreenMonkey', 'Character Sketcher', 'Inspiration Pad Pro', 'Fractal World Explorer', 'Goblin API', 'AstroSynthesis', 'The Keep', and 'Skwyre' are trademarks of NBOS Software. Android is a trademark of Google Inc.