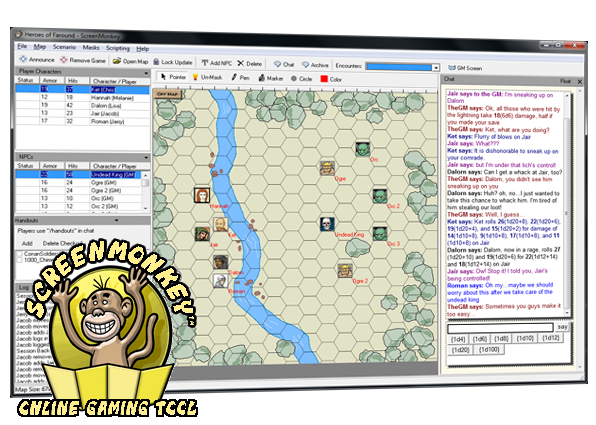 ScreenMonkey Lite
Online Gaming Tool!
ScreenMonkey Lite 1.8 - Supported Platforms
System Requirements (for the GM):
Intel Pentium IV class PC or higher with 512 meg of ram and 50 meg of free hard disk space running Microsoft Windows 8/7/Vista/XP. See also the Internet Requirements below.

System Requirements (for the Player web interface):
Players can connect to a ScreenMonkey server with any reasonably modern web browser. Windows, Mac, Linux, ...it doesn't matter!

Internet Connection Requirements:
An Internet connection, obviously. ScreenMonkey works best when used with a reliable broadband Internet connection. The GM will need to be able to forward a port on their router to allow incoming connections to their machine.



Free Download!
Copyright ©2018, NBOS Software. All rights reserved. 'Fractal Mapper', 'ScreenMonkey', 'Character Sketcher', 'Inspiration Pad Pro', 'Fractal World Explorer', 'Goblin API', 'AstroSynthesis', 'The Keep', and 'Skwyre' are trademarks of NBOS Software. Android is a trademark of Google Inc.